I thought i would start updating what i've been reading each month here on my blog with a small review of what i thought of the book.
Previous Reading History
Before 2013 i read. No keeping lists of books i had read, i think maybe i had just signed up to Goodreads. But when i left the UK in 2013 i started tracking what i read in the back of my calendar journal. It started of really scrappily on a piece of paper and then i just wrote down the title and author. I was interested to see the next year how many paperbacks i read compared to kindle books and so it started. I have got more interested in stats and this has encouraged me to read more out of my comfort zone. So, this year, i have been trying to read more non-fiction books.
September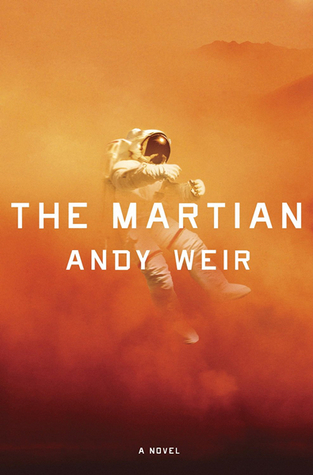 Six days ago, astronaut Mark Watney became one of the first people to walk on Mars. Now, he's sure he'll be the first person to die there. After a dust storm nearly kills him & forces his crew to evacuate while thinking him dead, Mark finds himself stranded & completely alone with no way to even signal Earth that he's alive—& even if he could get word out, his supplies would be gone long before a rescue could arrive. Chances are, though, he won't have time to starve to death. The damaged machinery, unforgiving environment or plain-old "human error" are much more likely to kill him first. But Mark isn't ready to give up yet. Drawing on his ingenuity, his engineering skills—& a relentless, dogged refusal to quit—he steadfastly confronts one seemingly insurmountable obstacle after the next. Will his resourcefulness be enough to overcome the impossible odds against him? – Goodreads
After seeing the trailer for the film, which is now out, we both decided we wanted to read the book.
I really enjoyed reading this and it was pretty funny to.  The character of Mark despite all the things that are thrown against him, in some case quite literally, keeps his wit and humour throughout the whole book. I have never been so attached to a character in a book and hoped for their survival like i did for Mark Watney.  This quite an easy read with short chapters, I read it in about two days.
If you have any interest in space and space travel, people facing life and death situations (with humour) Then you'll enjoy this book, i know we both did.
Lynne Sharon Schwartz joins the travel dialogue with a memoir that raises serious and amusing questions.
Not Now, Voyager takes us on a voyage of self-discovery as the author traces how travel shaped her. She visits Miami Beach as an adolescent with an aunt and uncle and confronts the sensation of not belonging; she goes to Rome as a young woman and ponders the difference between ignorance and innocence; she ventures to Jamaica and witnesses acute political and social unrest; and she takes a family road trip to Montreal and watches her daughters come to their own startling realizations.
In this memoir, Schwartz's history takes on new shapes, and her feelings about travel change as she does. Her story exemplifies a mode of travel: the mind on a journey, pausing, sometimes by design, sometimes by serendipity, lingering, backtracking, but always on the move. – Goodreads
I found this book a struggle to read, I was interested to read at the start why some people are only vaguely interested in travel but still do it. The tales that were told were not that exciting to read and i think this has to be one of my least favourite non-fiction books that i've read. I struggled through to the end but wouldn't recommend it.
Stats: physical book, library, Non-fiction, Travel
Scores of dragons are dead after plague swept across the world of Pern, and now the Weyrs are struggling to rebuild before Threadfall destroys everything—and everyone—left alive. Their best hope lies with a group of new dragonriders who have volunteered to brave the dangers of an unexplored island populated by vicious wild felines and voracious tunnel-snakes to create a safe home for their young dragons, whose offspring will hopefully replenish Pern's decimated population. But their leader, Xhinna, the first female rider of a blue dragon, faces an uphill battle to win the respect of her peers, especially after tragedy leaves the new colony reeling. The way forward seems to lie with the awesome ability of the dragons to travel through time. But that power comes with risks: By venturing into the past, Xhinna may jeopardize the very future she has sworn to save. – Goodreads
I have read a large number of the PERN series and these remain my favourite books. I was a little confused at the beginning BUT mostly because i missed three books between the last one i read and this one. Once i had sorted some of the storyline and history out, i sped my way through this, and though there are some small inconsistency in the writing i loved it. This is the last book written by both Anne MacCaffrey and Todd MacCaffrey, sadly she passed away in 2011.
If you enjoy books about dragons, adventures and fantasy settings then you will enjoy this series.
Stats: physical book, Library, PERN series
"You Only Live Once" inspires readers to seize the moment, explore the world and share their incredible stories. With over 1000 experiences for every stage of life, this eclectic gift book is the perfect manual for a life well-lived. Combining stunning photography with illustrations and infographics, it will surprise and entertain with a quirky mix of experiences everyone should try at some point in their life. – Goodreads
This was a great flick through book full of some amazing photographs. There was a wide selection of things to do ranging in time from an hour to a year. I really enjoyed getting some ideas for future trips and taking an armchair journey around the world.
Great book for those inclined to armchair (or actual) travel and wanderlust.
Stats: Physical book, Library, Non-fiction, Travel
So far… This year i have read 25 books. My goal for the year is 50 so i am a bit behind but hopefully i can catch up and even surpass my target.